Custom Quilts & Quilted Accessories

We are proud to offer the following quilts for sale in the colors you specify. Baby quilts are offered in pink, blue, purple, green or yellow color themes. Lap quilts are offered in any color theme. You may also select a holiday theme, i.e. Christmas quilts will be done in holiday fabrics and colors. Fabrics used will vary from pictures. All fabrics and batting are 100% cotton. The quilts will have a label on them and can be personalized by me with the recipients name, occasion, date of occasion, and/or any special message you may want included. Quilts will have your choice of an all-over machine quilting pattern, or tying with perle cotton to match. On all baby quilts, the baby's name is incorporated into the machine quilting in a border, if known. Coming soon we will have quilts for sale.
Scroll down to order a custom quilt in your choice of pattern and color.

QUILTS


Nine Patch Quilt - scrappy look.
$150.00 - Baby Quilt
$250.00 - Lap Quilt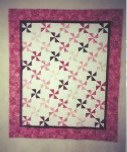 Pinwheel Quilt
$150.00 - Baby Quilt
$250.00 - Lap Quilt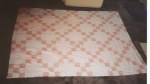 Nine Patch quilt without borders.
$125.00 - Baby Quilt
$225.00 - Lap Quilt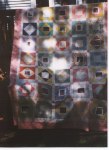 Economy Block
$200.00 - Baby Quilt
$300.00 - Lap Quilt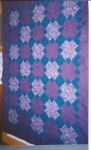 Graden Trellis
$150.00 - Baby quilt
$250.00 - Lap Quilt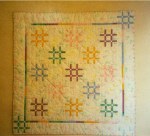 Tic Tac Toe pattern from Marti Mitchell's Book "Quilting for People Who Don't Have Time to Quilt".
This is done in pastels only.
$150.00 - Baby Quilt
TABLE COVER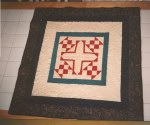 Basket design
$125.00 - Table Cover
QUILTED SWEATSHIRT JACKET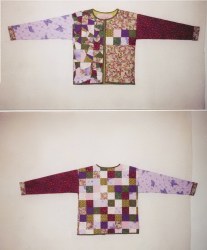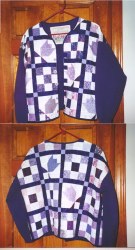 This quilted sweatshirt jacket has no pattern. It was done as I went along using different techniques. Each jacket will be unique. These can be done in any color scheme. Patterns and fabrics used will vary. You may select a random pattern like the one above left or an all-over pattern like the purple jacket above right. Please specify whether you want the sleeves covered or left plain. Please specify the sweatshirt size needed. The sweatshirt color inside will coordinate with the colors used when able. There will be a button and loop at the top front.
$150.00
QUILTED BAG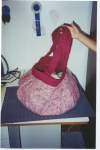 This quilted pumpkin bag (called this because of it's shape) can be done in any color scheme. The bag is lined inside with 100% cotton. There is a one to two week turn-around on shipping this item.
$45.00
CRAZY HEART PILLOW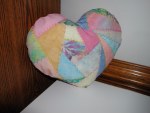 This 10" x 12" heart pillow is crazy quilted with hand-embroidering on the seams. This is made with 100% cotton fabrics with polyester fiberfill stuffing. This pillow can have initials embroidered on it for $2.00 per letter extra. Please specify color scheme. There is a one to two week turn-around on shipping this item.
$30.00
Please use this form to order a quilt shown above.
Please use this form to order a custom quilt.
We can also create the perfect quilt for that special gift using the colors that you specify and any pattern.
Since this service can vary greatly depending on the complexity of the pattern and the quilting involved, we will provide a free estimate on a job-by-job basis.
Please provide us with the following information in your estimate request: occasion and date needed, size, pattern -yours or ours- and colors wanted. All quilts will be machine quilted.
Please remember that a custom quilt takes time to make. Most baby quilts with machine quilting can be made within a month.
Please e-mail us for your free estimate.

Please email us for a free estimate.